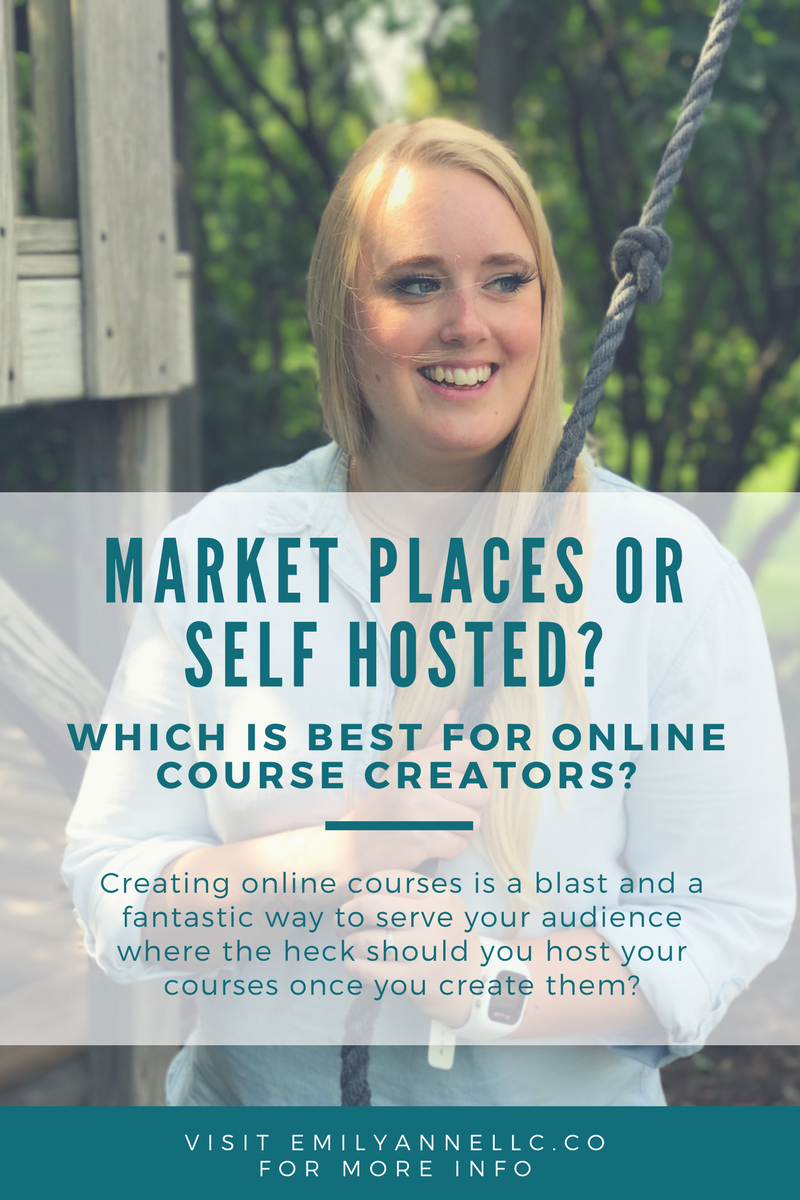 Creating online courses is a fantastic way to serve your audience with information and help them get the result they are looking for. There are also so many options and ways you can go about online course creation and there is something for everyone no matter what niche you are in!
Needless to say, I love online courses and think they are an incredible way to get content out to your audience and quickly! The best part is, you don't have to be super tech savvy to create online courses!
But creating the content for your online courses is only half the battle, you also have to decide where to host your online courses. There are two ways you can go about this, either a marketplace or self hosted.
So what is a marketplace? A marketplace for online courses is usually a free website that will host your online courses and show them on their marketplace. Examples of marketplaces include, Udemy, Skillshare and many more. Please note, I have only personally used Udemy. Now let's get into the pros and cons of using a marketplace!
The pros of using a marketplace is just that, it's a marketplace and your courses are shown to an audience that you may not be able to reach when you are first starting out! These websites are also free to use and upload so you won't have to pay anything to get your courses out there. They are all super easy to use as well!
I know, your dying to know what the cons are! The cons of a marketplace are that you don't technically own the website which isn't the best for branding purposing because the site to your course will have the marketplace's name in the title. You also do not own any of the student's emails that sign up for your courses. If your goal is to build a business and an email list then this is a huge con.
Let's move into self hosted websites! There are tons and tons of self hosted website platforms you can use as well, such as Teachable, Thinkific, Kjabi and many many more! A self hosted website just basically means you have your own domain name and the website just holds your videos and other course materials on their website. I have personally used teachable and absolutely love it! Feel free to click on *this link* to check out teachable for your self!
The pros of a self hosted website include, having your own website name. Making it look more professional and it helps with branding purposes. You have full access to ALL the email address you collect! You basically have full control over everything that goes on with your online courses because you own everything!
The cons of self hosted websites include, well the price. This option is not free but of course you get what you pay for! Each self hosted website has different pricing options you can choose from and some are more expensive than others. Another con of self hosted websites is you have to drive all the traffic to your courses.
While I think both options have their place and can be useful you need to do your own research on each to see which one will work best for you and what you want to do with your online courses. If you want to build a business go for self hosted, if you want to create passive income or just dip your toes in to see if you like it, go for a marketplace!
Did you find this post helpful? Let me know below what type of content you want so I can best serve you!